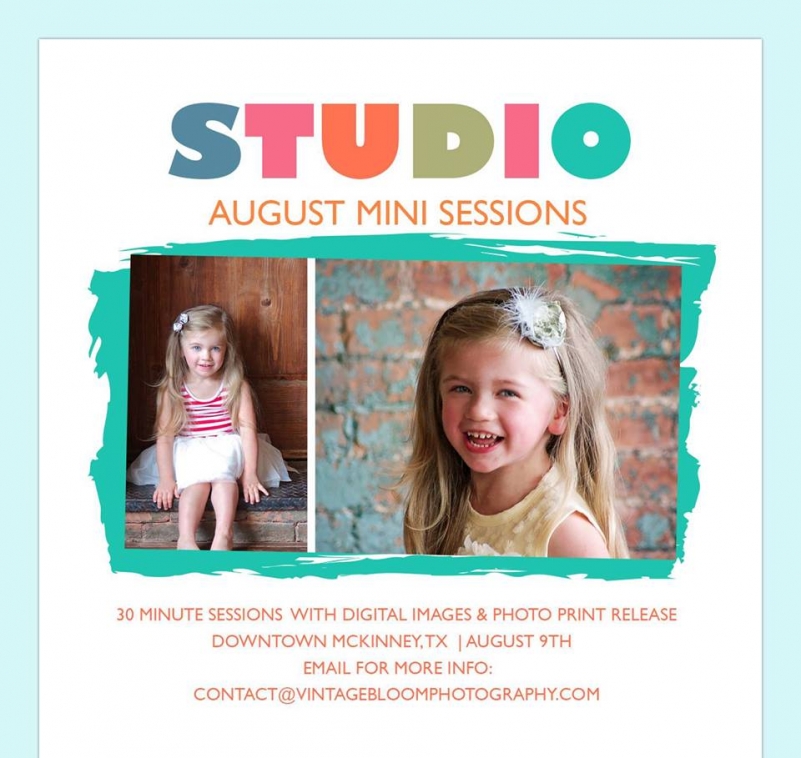 ONE SPOT LEFT AS OF JULY 16TH!
BEAT THE TX HEAT THIS SUMMER!

Join me for a fun (and cool) studio photo shoot in the lovely Downtown Mckinney Cotton Mill August 9th!

Whether you need an updated family picture for your wall, or baby's first photo shoot, a maternity session,or perhaps you just got engaged, this studio is the perfect spot! Hardwood floors, exposed brick, fantastic vintage and modern furniture, and THE best natural light pouring in from huge windows. 

Enjoy a special cupcake treat from Reverie Bakeshop after your session! 
Each mini is 30 minutes in length and will gives you printing rights to digital images.
$100 for 5 Digital Images or $150 for 10 Digital Images
For more details, times available, or to reserve your spot, email me at contact@vintagebloomphotography.com

Share on Facebook, tweet, or forward to friends and be in the running to have your session free! The person who shares and receives the most referrals will be the lucky winner! 
 To enter the giveaway, click the giveaway tab on  my facebook page or use  this link! http://tinyurl.com/kn4th8d